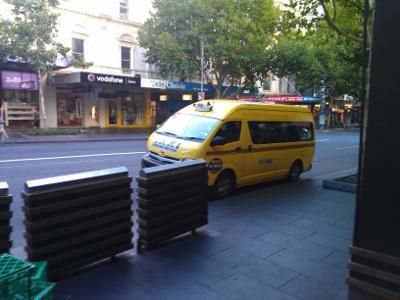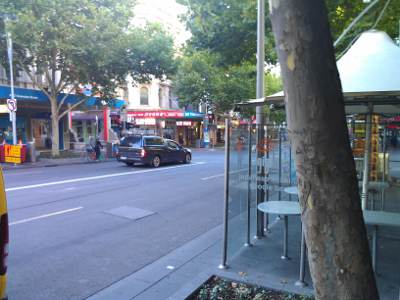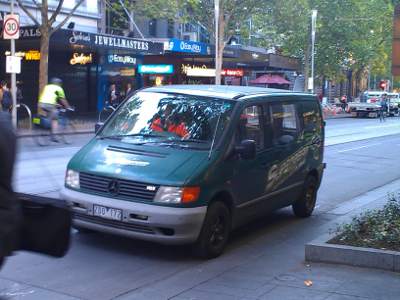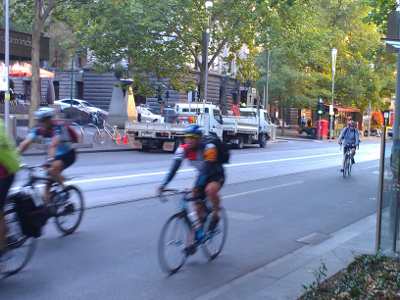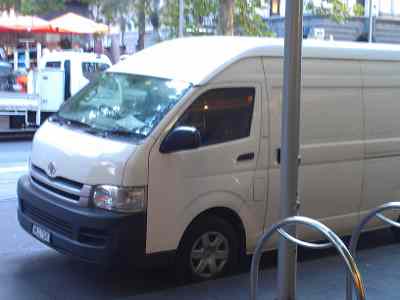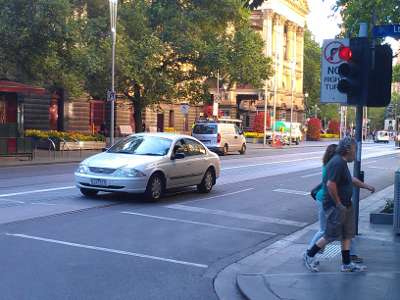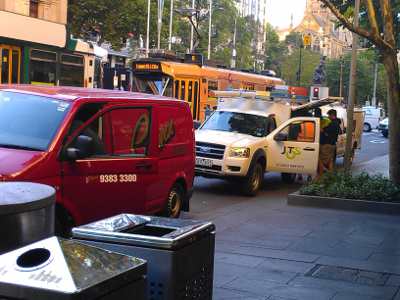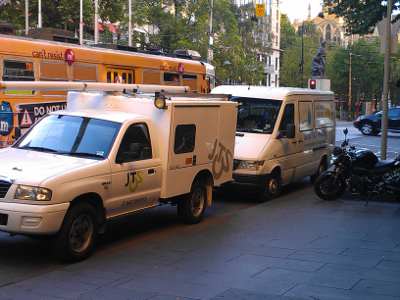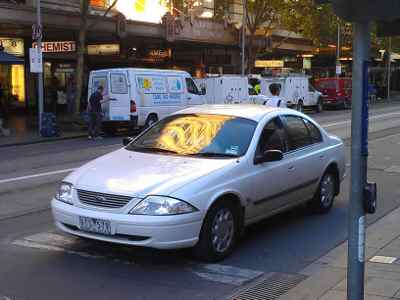 In material presented to the public by the City of Melbourne, prior to the opening of the new tram stops, the words "car-free" were used. The actual rules are supposed to make it "car-free" for 7 hours out of 24. These words are no longer on the Council's website, instead, in a letter to Melbourne BUG, we were told that "Although it has been closed to through traffic, Swanston Street is still a shared space for authorised vehicles, trams, cyclists and pedestrians. Authorised vehicles such as police cars, Yarra Trams vehicles and vehicles associated with roadwork's or deliveries with permits can legally park in Swanston Street at different times of the day. " MElbourne BUG is not aware of any Council motion changing the status of Swanston St from "car-free" to "shared".
The BUG has been told now on several occasions that enforcement will be stepped up. The photos on this page were taken between 8:20 and 8:25 on the morning of Wednesday 30th January 2013. None of the illegally parked vehicles had been issued with a ticket.
Melbourne BUG makes the following suggestions to improve the situation:
Declare the seven hours a clearway, instead of just No Standing. In addition, declare it a "Clearway tow-away zone". Clearways are easier for drivers to understand, and carry higher penalties.
Install flashing LED signs at all the intersections leading into Swanston Street with text "No left turn" or "No turns" (bicycles excepted). These should be switched on during the 7 "car-free" hours. For the rest of the time, an additional sign below could add "Authorised vehicles excepted". All the illegally parked vehicles are also breaking the no-turns rule. Making this easier to see and understand BEFORE they enter Swanston St is a better outcome. The signs will also encourage police to enforce the no-turn rules, as drivers will have no excuse for making a mistake.